Older Dogs, Winter & Osteoarthritis
Cold weather can bring on joint pain which is common in older or large dogs. Here are some tips and tricks to alleviate symptoms.

Older pets can sometimes struggle with aching joints, especially in the cooler months. It's important as pet parents to keep a watchful eye on our furry companions and ensure we take action as soon as we notice any change in behaviour.
What is Osteoarthritis in pets?
Your pets joints are covered in cartilage which is in a constant state of being broken down, produced and replaced. In unhealthy joints, the production of new cartilage is slower than the breaking down. This causes an imbalance in your pets joints, making it harder for them to move, causing pain and discomfort.
What are the symptoms?
Reduced range of joint motion
No longer wants to go on walks, or walk as far
Stiffness
Difficulty climbing stairs, getting into bed etc
Limping or lameness
Changes in personality
Difficulty getting up in the mornings
What are some factors of Oestoarthritis in pets?
All dogs no matter their size can develop arthritis
Overweight or obese pets are more likely to show symptoms
Injuries can contribute and make a hotspot for arthritis to form
Active or working dogs are more likely to develop arthritis
Older dogs become more likely to develop it as they age
How can you help ease joint pain?
There are many things you can do to aid your pet in his golden years, and make things a little easier. The first is bringing them indoors, and giving them supportive and comfortable bedding. Their bedding should be fleecy or have blankets to help keep them warm. Cold joints are more likely to ache.
Good Nutrition
Your pet's diet fuels their health, so be sure to feed them a high quality food daily. Introducing supplements is one of the best ways to promote healthy joints as you are more likely to see good results.
See below for our recommended foods for older and overweight dogs.
Maintaining an Ideal Weight
Reducing excess body fat on your pet can help relieve the joints. A huge percentage of Australian dogs and cats are overweight or obese, especially breeds like Retrievers. Consider talking to your vet about your pet's ideal weight and see if any adjustments to your pet's lifestyle can help. Extra weight that can otherwise be lost is one of the fastest and most affective ways to reduce joint pain.
Supplements
Daily supplements of Chondroitin Sulfate (aka the key ingredient to cartilage production) can help prevent the degredation of cartilage inside your pets joints. Paw by Blackmores offers two great Osteo supplements used at different stages of Osteoarthritis.
Paw Osteocare is designed to aid in the prevention of Osteoarthritis. It's ideal to start using this formula before you notice symptoms, like when your dog reaches the 'senior' stage. For large breed dogs like Rottweilers and Labradors, this will be around the age of 5. For small dogs, the age of 8.
Paw Osteosupport is formulated for dogs who have already begun to display symptoms of joint problems, and will help slow down the degredation of cartilage. This product contains high levels of Omega 3 (an anti-inflammatory) which can reduce joint pain so your pet can feel their best.
Supportive Bedding
The right bedding can be very helpful in keeping your dog comfortable and their joints supported.
Bedding such as the Pawpedics Orthopedic Beds, are manufactured to conform to your pet's bodily contours, relieve muscle tension, ease joint pressure relief and to provide orthopedic support. Providing your pet with the right bed can help aleviate certain symptoms of Osteoarthritis.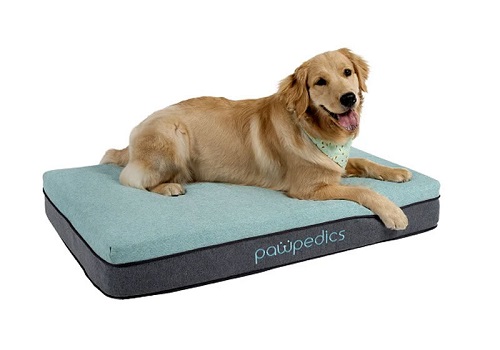 Jackets, Blankets and Heat Pads
One thing we know about joint pain is that it is regularly associated with being cold. While the causes aren't entirely clear, what we can tell you is that if your joints are warm then the pain usually aleviates.
Keeping your pet warm isn't always simple, especially when they can't exactly tell you when they are feeling the cold. A gentle touch to the paws or ears is the best and quickest way to see if your pet could use some help keeping warm.
Once you've established your pet is a little cold, finding the best course of action should be next on your list. For most dogs, a jacket is the easiest solution. Some dogs however, really don't like wearing clothing and that's fine - there are other alternatives available. For one, blankets and warm bedding would be your next go-to. Some beds offer insulating properties which can help heat up faster and are ideal for older dogs. Alternatively, you can place a electric heat mat inside your pet's bed.
Specialty Pet Foods
To keep your dog acting young and healthy, proper nutrition is important. As your pet ages, continue to feed them foods rich in antioxidants and essential nutrients to keep them active and alert. Enhanced levels of dietary nutrients such as the omega 3 fatty acid may help improve cognitive function in senior dogs.
Some great options include:
Royal Canin Joint Care is formulated to provide advanced nutrients, including collagen, to help support cartilage during the ageing process and maintain healthy bones and joints. The formula also has fewer calories to support a healthy weight and limit pressure on the joints.
Hill's Science Diet Healthy Mobility contains advanced nutrition shown to support joint health and improve mobility in 30 days*. Containing EPA from fish oil helps keep joint cartilage healthy, supporting improved mobility. Natural sources of glucosamine & chondroitin are building blocks of healthy cartilage. Balanced minerals for strong bones.
Big Dog Wellbeing is a lower fat healthy raw diet, which has been specifically designed for overweight dogs or dogs requiring dietary support for health conditions such as pancreatic issues, liver conditions, kidney issues and cancer. To our blend of lean muscle meat, vitamin and mineral-rich offal, crushed bone and cartilage we add nutrient-dense fruits and vegetables and a blend of herbs and extras specific to the wellbeing diet recipe.
Royal Canin Light Weight Care A high protein content helps maintain muscle mass and a low fat content helps limit weight gain. An optimal combination of soluble and insoluble fibres helps him feel full, while Omega-3 fatty acids help support healthy joint movement. Complete, delicious and hunger-satisfying nutrition that helps keep him lean and his joints healthy.
---