Auto-Delivery Service
We've all been there – forgetting to head to the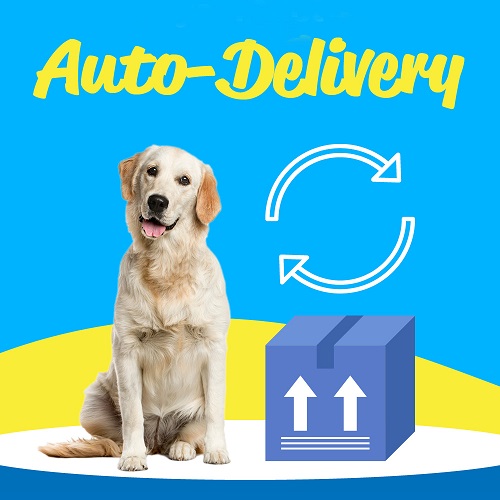 shop when you're low on pet food – eep!
Our auto-delivery service gives you one less thing to remember. Have your pet's favourite pawducts shipped to you automatically, when you need them.
Plus, automatically save when your product goes on special and receive up to 5% off all recurring auto-delivery orders.
How does auto-delivery work?
Choose your pet's favourite products and on the product page & choose how often you'd like to receive the product. Add this product to your cart and check out as normal. You'll receive your first auto-delivery shortly after placing your order and then at your chosen recurring time interval after that.
How often can I receive an auto-delivery
We offer options for every week up to every 3 months. Let us know if your preferred timeframe is unavailable at online@petcity.com.au.
My product isnt available for Auto-delivery...?
We are making more and more products for Auto-delivery. If your product isn't yet available for auto-delivery, let us know at online@petcity.com.au and we'll do our best to add it for you.
Can I have multiple products on different auto-delivery schedules?
Sure thing! We understand that your pet pawchases might not always fall around the same time. Simply select the preferred frequency you'd like for each product individually, add them to your cart - we'll sort the rest!
Do I get a discount when I buy products with auto-delivery?
Yes! You can save up to 5% on most products with every recurring auto-delivery. This discount is in addition to the club member discount. Some exclusions may apply.
Will the sale price be locked in for my auto-delivery product/s?
The price of your auto-delivery item/s will change depending on the sale price at the time of your auto-delivery. So if your item is on sale at the time of your auto-delivery, you automatically receive a discount!
How do I make a change to my auto-delivery schedule?
You can choose to adjust or cancel your auto-delivery service at any time. You will be able to see products you have on auto-delivery under you're My Account section. From here, you can cancel any upcoming auto-deliveries. If you want to change the frequency of your auto-delivery, you'll need to first cancel your current auto-delivery setup in your 'My Account' section and return to the product page and choose the new frequency you'd prefer. Alternately, give our online team a call on (07) 3349 2086.
Couldn't find what you were looking for?
Send us a message at online@petcity.com.au and our team will be in touch.