Event Details
Next Event
28 November 2020
Venue
224 Wishart Road, Mt Gravatt
Santa Photos 2020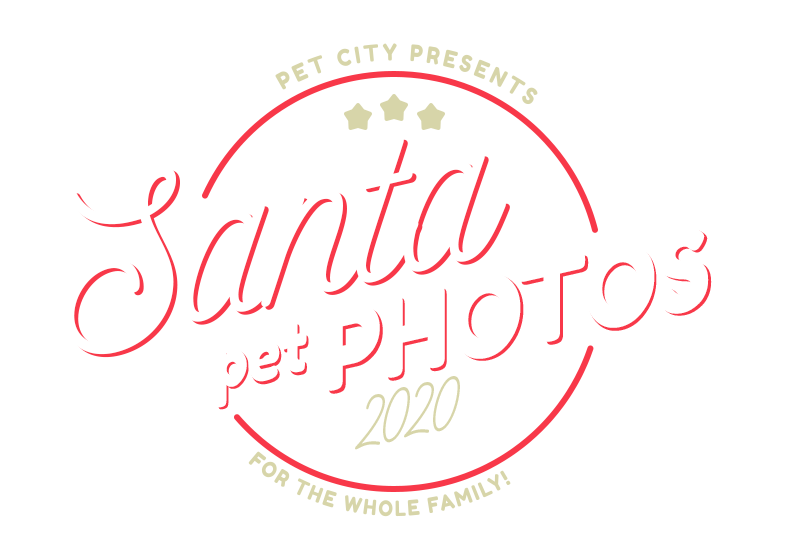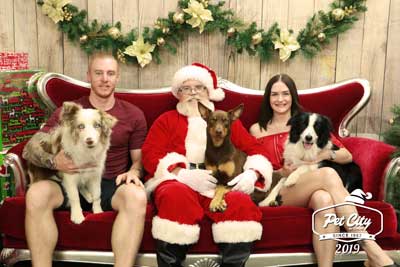 Once again, we are hosting our magnificent Santa Pet Photo event for Christmas 2020. Let's finish the year off by capturing some beautiful portraits of your whole family. Our photography team is professional, friendly and we are have a great understanding of animals to make everything as relaxing as possible for your pet. This year, our photos will be taken in a private room so your pets and family can follow social distancing regulations. This will also be fantastic for kids and animals that might experience some anxiety.
The event will be over the course of three weeks, spread out over the weekends. Please book as soon as you're sure you want to attend, as this year bookings are essential. Unfortunately we won't be accepting walk-ins. Sessions this year are extended to ensure everybody is comfortable.
Dates: 28th & 29th November | 5th & 6th December | 12th & 13th December
See bottom of page for last years photos
---
The Whole Family
We encourage you to bring everyone, and we don't exclude! Dogs, Cats, Guinea Pigs, Rats, Birds, Chickens, Goldfish you name it! Any pet that isn't Native Wildlife can attend.
COVID Safe
We have new regulations in place to ensure Santa & your family are safe during this time. We have allocated a whole room to this event where one family at a time will be present. This will ensure minimal contact between each group to keep everybody safe and socially distant.
Unfortunately, this also means that Santa may not be accepting of children sitting on his lap this year.
Bookings Essential
This year, bookings are vital for Santa Pet Photos. To register your interest, please subscribe to our mailing list or follow us on Facebook.
Please note that booking time slots allow for 2-3 groups per 15 minutes, equating to roughly 5 minutes per session. If you think you need more time, or have booked a family pack and would like multiple or additional photos, please let us know when you check in so we can accomodate for this.
Change or Cancel Booking
If you need to change or cancel your booking, click the 'Book Now' button and navigate to the 'Manage Booking' tab.
---
Terms & Conditions:
The health and well being of our customers, Santa and his elves are our highest priority. Therefore we are implementing a number of changes to the way our Santa Pet Photos are run this year. Please take note of the following procedures before your arrival on the day.
Online Bookings will be required in order to avoid queues & crowds. Walk in bookings will not be accepted. Please book at

www.petcity.com.au

To remain COVID-safe and avoid congestion, the Santa Photos will take place upstairs at Pet City, off the shop floor. Please be advised that this location does not have disabled access. We apologise for this inconvenience.

Please don't arrive early for your booked session as you will not be able to queue until your session time starts.

There will be hand sanitizer on entry to the Santa Photo area.

Due to social distancing, there will be stools positioned 1.5m from Santa for the photos. This year guests will not be able to sit on Santa's knee or come in close contact with him.

Stools/chairs will be sanitized between each session.

If anyone is feeling unwell, experiencing flu-like symptoms, been in contact with someone that has tested positive to COVID-19 or has recently been to a known COVID-19 hotspot, please reschedule (unless booked out) or cancel your booking.

Booking dates & times can be changed up to 24hrs prior to original booking time (unless booked out). No refunds can be issued if you change your mind & cancel your booking. You're welcome to cancel the original booking & set a new time (unless booked out).

Larger groups may be contacted before the booking, if COVID-19 government restrictions change.

This event may be cancelled if COVID-19 government restrictions change. Should this occur you will be contacted via the email address provided.
---
Santa Photos 2019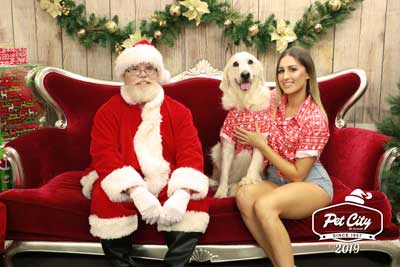 ×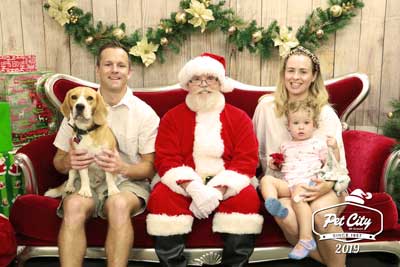 ×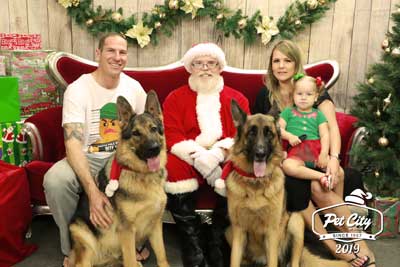 ×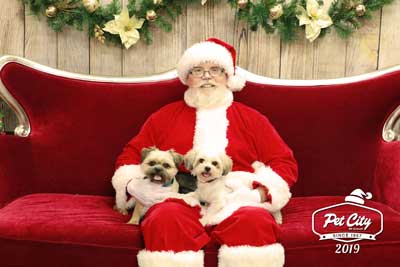 ×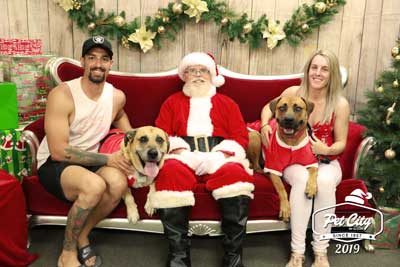 ×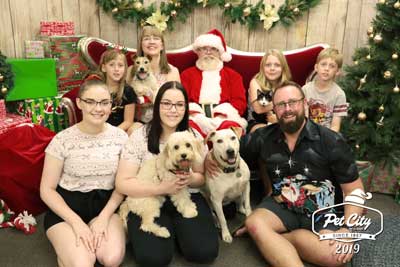 ×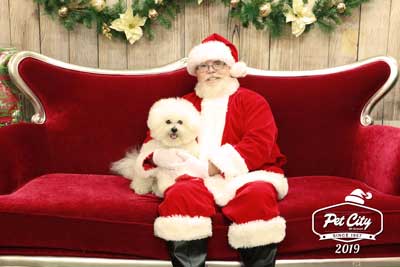 ×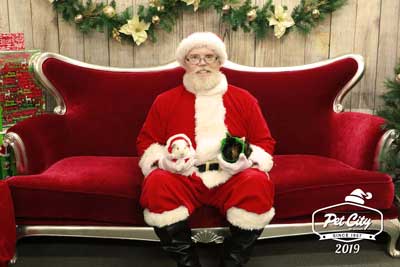 ×
---
Comments (11)
Professional

By:

Jugele Dawson

on 20 December 2019

It was on time and professional.
---
Thanks Pet City

By:

Lisa Appelkamp

on 20 December 2019

Pet City was so organised. We were very impressed. Thanks Pet City
---
Great :)

By:

Cazz Byrne

on 20 December 2019

Staff were great, really knew and ubderstood the dogs needs.
---
Spectacular!

By:

Lisa Peebles

on 20 December 2019

Awesome, wonderful and just generally spectacular.
---
Accommodating

By:

Brooke Wolski

on 20 December 2019

We were running 5 mins late to Santa photos with 2 howling cats and the staff were more than accommodating. Will be back and have recommended to friends
---
Leave a comment