Parcel Shipping
Zero Contact Delivery Options
We are offering Zero Contact Courier /Parcel Post delivery, FREE for locals in Brisbane area on orders over $29! (Terms & Conditions apply: Excludes Express Home Delivery, excludes bulky, frozen, chilled or live products) See below for further details.
To receive these delivery options, shop online and select your shipping option of choice at the checkout.
For seniors and those with limited access to our website we are accepting phone orders.
If you are interested in our Express Home Delivery within Brisbane click here. If you are interested in our Click & Collect option, click here
We strive to make shipping as easy and efficient as possible for all of our customers. That's why we have chosen Sendle as our shipping service. It's a carbon neutral company who ship Australia wide - how pawesome is that! With this great new courier service we can charge you less, which means more to spend on your spoiling your pets.
FREE Parcel Post within Brisbane*
We now offer FREE Parcel Post to selected areas in Brisbane for orders over $29. Excludes orders for bulky, frozen, chilled or live product. *Enter your postcode at checkout to find out if you qualify. Excludes Express Home Delivery.
---
How soon will my parcel be delivered once it is finalised?
With next-day pickup, your parcel will be on its way within 24 hours of your order, however please expect delays on weekends, public holidays or during the holiday season. If you have an item that is Back Ordered there might be a delay and we will notify you via an email. If you would like a more detailed estimate or status of your order, you may Log In or Contact Us directly.
Delivery ETA for popular areas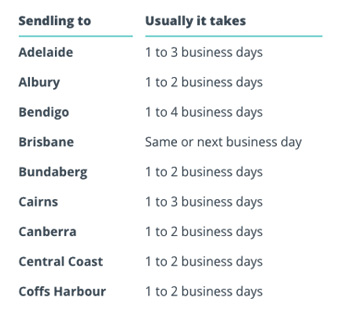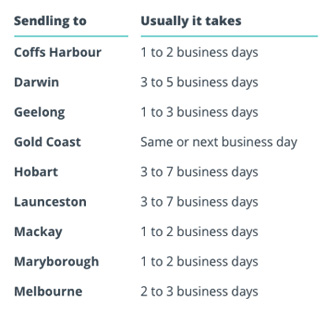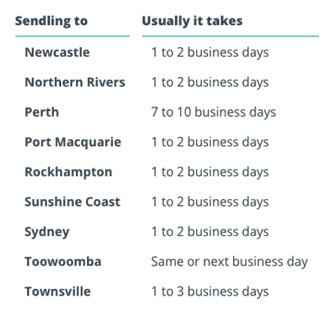 Where do I find the tracking number for my parcel?
Your unique tracking number will be sent to you automatically via email. You can also go into My Account to review your orders. If by some chance a shipping number has not been generated this might be due to a delay with your order. Please Contact Us so we can look into this for you.
Where can't I have my items delivered?
Unfortunately Sendle do not offer a PO Box option.
How much is standard shipping?
You can have your shipping calculated via your cart or by using the 'Calculate Shipping' field on each product page.
How do I qualify for FREE shipping?
We offer FREE Shipping to selected areas in Brisbane for orders over $29. Excludes orders for bulky, frozen, chilled or live product. Enter your postcode at checkout to find out if you qualify.
It says Shipping is not available in my location?
Please proceed to the cart; this is because the Calculate Shipping option may not work if your Post Code is new or has multiple suburbs attached to it. The Checkout will be able to better determine the postage fee with all your items accounted for.
The other issue could be that the item is too fragile, heavy or large for us to be shipped. Instead, we would offer Home Delivery or Click & Collect.
Does my parcel need a signature for delivery?
Yes, by default your parcel requires a signature to be delivered. However, you may specify in the Delivery Instructions (upon checkout) if you wish to have your parcel left without one. If you choose Authority To Leave, we are not able to offer an additional tracking advice after the parcel is delivered. Please ensure you have a safe spot for your parcel to be left and specific this in the delivery instructions.
Do TAS & WA have restrictions?
Yes, due to biosecurity reasons some of our products cannot be shipped to these states. This includes things like bird seed, some pet foods, types of herbs etc. If you have made a order containing these materials in WA or TAS, you will receive a refund. You can read more about these restrictions here.