Fish For Sale
Wondering where to buy pet fish in Brisbane? You've found the right place!
Our aquarium department is one of the largest in South-East Queensland with over 100 square metres of freshwater & marine fish, coral, plants and sea life. Plus another 100 square metres packed full with everything you need to maintain your tank! Whether you are looking to set up your first tank or you're an experienced fish keeper, we've got the goods and the expert advice to help your tank thrive.
Types of Pet Fish For Sale
We offer everything from corals to goldfish, and our team will often go out of our way to find a special type of fish or coral for our customers.
Our most popular fish and corals include:
Freshwater - Goldfish (including fancy goldfish), guppies, oscars, bettas/ fighter fish, cichlids.
Marine - Clown Fish, Blue Tangs, Purple Tangs, Emperor Angelfish
Corals - SPS corals, LPS corals, soft corals
Here are just some of the fish we commonly have available in our Mount Gravatt store. All fish are available in store only.
Freshwater Fish
Here are just some of our freshwater fish for sale in Brisbane.
Marine Fish
Here are just some of our marine fish for sale in Brisbane. Please note, fish can vary in availability as some are quite rare.
Corals
Here are just some of our corals for sale in Brisbane.
Why You Should Purchase a Marine or Freshwater Fish at Pet City
All our fish are sourced from quality suppliers who quarantine their fish to ensure they are healthy and disease-free
We have a wide variety of fish to choose from - you're bound to find something you love!
We're a one stop shop for everything you need for your tank setup
Our Aquarium Department team are passionate aquarium keepers themselves! So we have plenty of tips, tricks & advice to share when it comes to setting up and maintaining your tank.
Our range and our team come highly recommended! Don't take our word for it, we have 1000+ ★★★★★ reviews.
"Pet City has an amazing range of salt water fish and corals. Everything you need to set up your own aquarium is here. Joel and the team know their stuff and are extremely helpful." - Emily ★★★★★
"Incredible range! Especially fantastic set ups for aquatics - both marine and freshwater. Staff are knowledgeable and kind. This is easily the best pet shop I've been to. Thanks." - Tanisha ★★★★★
"Great selection of marine fish and corals. They really know their stuff." -JT ★★★★★
"Always a good selection of products for your Animals. Ontop of that they have great corals and friendly staff." - Zach ★★★★★
Fish For Sale Near Me: Where To Find Us
We welcome all aspiring aquarium owners to come have a browse of our huge range of fish.
Find us at 224 Wishart Road, Wishart, QLD, 4122 with plenty of free on site parking.
Want to know what fish are currently available? Give our friendly team a call on 07 3349 2086 or send us a Facebook message.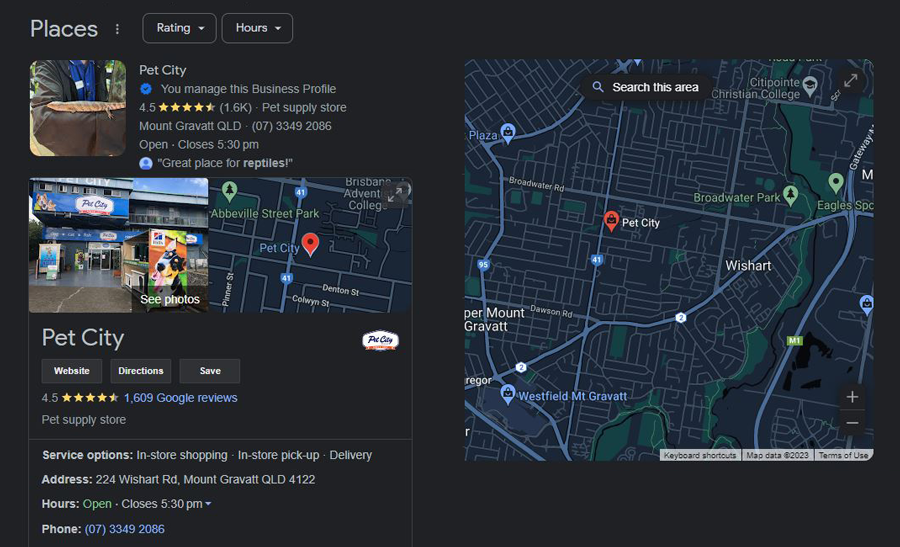 FAQ
How much do pet fish typically cost?
We have fish to suit every budget with prices ranging from as little as $3.95 for common freshwater fish up to $800 for more exotic marine fish and everything in between!
What should I consider before buying a pet fish?
Just like any pet, bringing a new fish home requires commitment. It's important to take some of the following points into consideration before taking a fish home:
Is your fish going into an established tank with other fish? If so, chat to our friendly team about compatability
Will your fish be in a space safe from other pets and curious small hands?
Have you considered the electrical costs of running your tank? (e.g. if your tank is likely to need a chiller or heater, this would use up more power)
Can you provide the ongoing upkeep required around cleaning, feeding, testing & water treatments?
---