Small Animals For Sale
Wondering where to buy a pet guinea pig, mice or rat in Brisbane? You've found the right place!
Guinea pigs and mice are some of our most popular pets, especially for kids. We often have these cute and furry small animals available for adoption. Could they be the perfect new addition to your family? Come say hi in store and find out!
Types of Small Animals For Sale
We often have pet mice and guinea pigs for sale. We also get in adorable pet rats whenever we can, though these are available a little less frequently.
Want to know what animals are currently available? Give our friendly team a call on 07 3349 2086 or send us a Facebook message.
Here are just some of the cute small animals we commonly have available in our Mount Gravatt store. All animals are available in store only.
Why You Should Purchase a Small Animal at Pet City
We source our small pets from only a handful of reputable breeders so we have a history of their health and temperament.
Our small animals complete a settling in period which allows us to keep an eye on them and ensure they are fit and healthy before they are available for sale
We take care of our small animals (like, really good care). Our pets are spoilt with plenty of fun enrichment toys and chews, hides and climbs while they stay with us. Plus, their enclosures are cleaned out daily and they enjoy a scrumptious varied diet!
Our small animal team are passionate rodent lovers themselves! So we have plenty of tips, tricks & advice to share when it comes to looking after your rodents.
As industry leaders in pet care and animal welfare, we take the welfare and sale of our animals very seriously. For this reason, it is our store policy to complete a pre-sale checklist with purchasers to run through all the requirements for our animals to live happy and healthy lives in their new furever homes.
Small Animals For Sale Near Me: Where To Find Us
We welcome all aspiring small animal owners to have a browse of these cute pets in store.
Find us at 224 Wishart Road, Wishart, QLD, 4122 with plenty of free on site parking.
Want to know what animals are currently available? Give our friendly team a call on 07 3349 2086 or send us a Facebook message.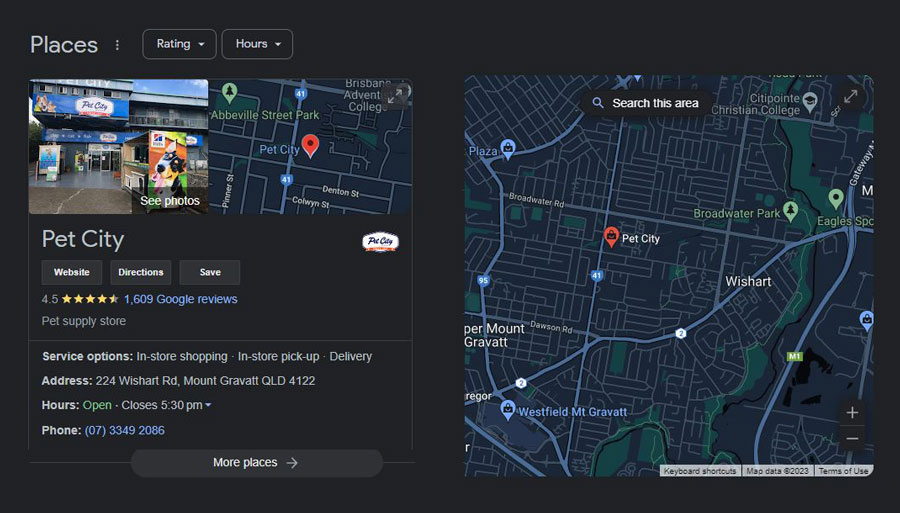 FAQ
What kind of housing is best for small animals?
We have a range of enclosures to suit guinea pigs, rats and mice. One of our most popular guinea pig enclosures are our C&C (cubes and corflute) enclosures. These are so popular because:
They come in a range of colours
They're easy to setup with no tools required
They are modular so you can expand, add dividers/stands/extra levels as desired
You can add on a loft and ramp combination for additional space for your rodent to roam
Every part is easily replaced
It's very easy to clean and maintain
We also have a range of mouse enclosures and rat enclosures.
Are Guinea Pigs Good Pets For Children?
Small animals like rodents are a popular first pet for children. They can teach kids alot about the responsibility of pet ownership whilst providing a cute and cuddly companionship kids love. Guinea pigs need a diet full of fresh fruit and veggies, so feeding time can even create an opportunity for education around healthy nutrition!
Guinea pigs can be quite social and affectionate little creatures. As long as they are handled with care and respect, they'll become attached to their new humans and return the affection. Guinea pigs are known for purring when they are happy and squeaking with excitement at the site of food!
Piggies are also relatively low maintenance - not requiring the same amount of exercise as a dog. They also take multiple naps a day!
What is the lifespan of a small animal?
Guinea pigs usually live from 5-7 years. While mice and rats tend to live for 2-3 years.
How much does it cost to own a small animal?
Mice are usually available for around $12 while guinea pigs and rats are usually available for $50. Along with the actual cost of your new pet, it is our store policy to ensure that pet owners go home with everythiung required to keep our pet rodents happy and healthy. A typical first setup will require:
An enclosure
Food
Bedding
Hide
Chews & toys
Food bowl & water dripper
Tunnel
Animal-friendly cleaner spray
Our small animal enclosures might be on sale - check out this month's specials to see what bargains you can snap up.
What should I consider before purchasing a small animal?
Just like any pet, bringing a rodent into your home is a commitment & shouldn't be taken light-heartedly. It's important to take some of the following points into consideration before taking a small animal home:
Do you have space in your home that is suitable for your rodent? Guinea pigs are quite sensitive to the heat and cold, so will require some thought around enclosure placement.
Will your rodent be in a space safe from other pets and curious small hands?
Can you provide the ongoing upkeep required around cleaning, feeding and enrichment?
---