Donate to Pets in the Park
On: 20 March 2019
Many people who are experiencing homelessness own pets that play a significant role in their lives. These much loved pets offer unconditional love, companionship, emotional support and security; basic human needs that are often not being met elsewhere. Although pet ownership greatly enriches the lives of those who are experiencing homelessness, it can at times come at the forfeiting of personal welfare and significant financial costs.
Pets In the Park provide support and assistance to those that are homeless with pets. So, from the 30th March, Pet City will be asking for a 'Helping Paw' to raise funds for the 'Pets In The Park' surgical program & much needed equipment.
---
How can I Help?
Buy a $2 token
in-store between the 30th of March and 31st of April.
Face Painting
Attend our Super Saturday Event on the 30th of March and have your face painted for a gold coin donation. 100% of proceeds from this goes straight to Pets in the Park.
---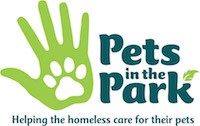 What is Pets in the Park?
A not for profit organisation that aims to support, build relationships with and improve the wellbeing of homeless people living with animal companions by reducing the financial burden of pet ownership
For more information on the wonderful work that Pets In the Park do, head to their website