Event Details
Next Event
24 November 2019
Venue
Getting a Puppy?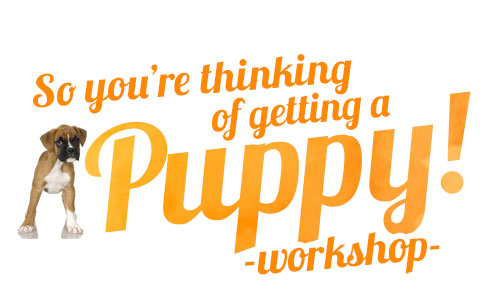 Thinking of getting a Puppy?
Adding a dog to your family is a life long commitment. Set you, your family and your puppy up for success by getting all the information you need from the start. Join this 90 minute workshop run by Dog Training Specialist Zigrid & owner of 'It's Not About The Dog', whose revolutionary training techniques have helped countless families & their beloved dogs for decades.
Topics covered in this workshop:
Choosing the right breed
How to select a puppy
When to get a puppy
Selecting a good breeder
Shopping List (choose the right products from the start)
You'll also learn about what's in store once you've adopted your puppy
Understanding development stages and deadlines
Socialization period with people and dogs
Errorless toilet training
Setting rules and boudaries
Chew training
Bite inhibitions
Teaching rules and boudaries
How to get the perfect night sleep from day 1
Top 5 priority things to teach your puppy in the first 4 weeks
SPECIAL OFFER - All attendees will receive a $50 voucher for 'It's Not About The Dog' Puppy program PLUS discount vouchers for Pet City!
Join us on Sunday 24th November 2019 at 2pm.
Secure your place now!
Workshop brought to you by